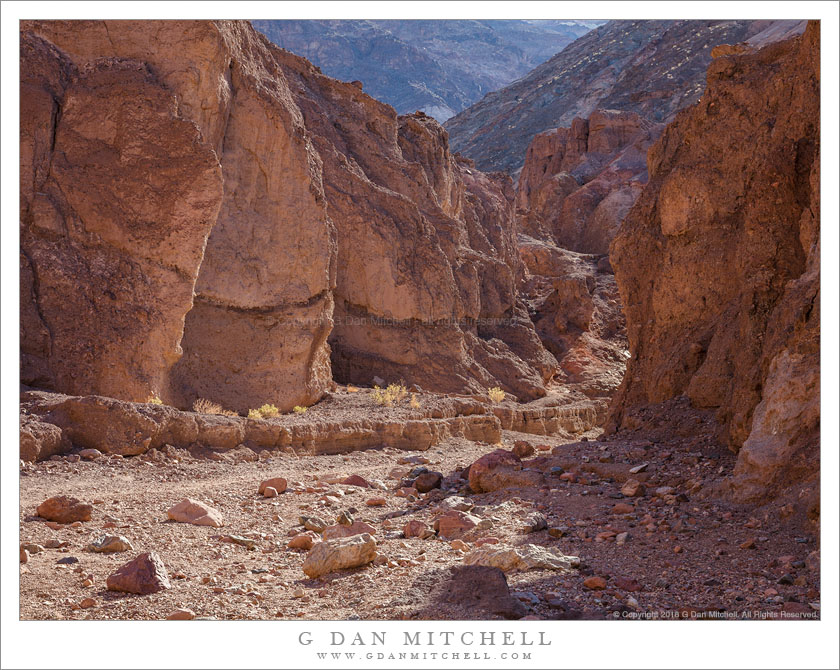 Winding Desert Canyon. © Copyright 2018 G Dan Mitchell – all rights reserved.
A desert canyon winds into the Black Mountains of Death Valley
These desert canyons come in a variety of forms. In many ways, the slot canyons are the most appealing, with their tall, often vertical walls, serpentine paths, and sometimes very narrow dimensions. But the constitute the minority of the canyon types. Others may be quite wide and shallow, almost having the character of wide washes instead of canyons. These are often found lower in the mountains, and are easy to spot from a distance where the canyons spill out onto (sometimes vast) fans of gravel. Another type feels like a canyon, but has a more open character, with hills rather than walls along the sides, and often with a wide path up the center.
This canyon has the latter character, at least at this point. (Elsewhere in the same drainage it has more of the character of a slot canyon.) While there are low walls along its edges, one wouldn't be too hard pressed to pass over them, and above these walls the sides of the canyon slope away at relatively low angles that allow sunlight to penetrate to the bottom. Recently it finally occurred to me that one of the things that makes such canyons so enjoyable to walk is that there is no single path to follow. Where the canyon is wide enough, the feeling is midway between following a trail and walking in trail-less country. You do follow the course of the canyon, but you can pick your way through it in any way that seems to make sense.
---
G Dan Mitchell is a California photographer and visual opportunist. His book, "California's Fall Color: A Photographer's Guide to Autumn in the Sierra" is available from Heyday Books and Amazon.
Blog | About | Flickr | Twitter | Facebook | Google+ | LinkedIn | Email
---
All media © Copyright G Dan Mitchell and others as indicated. Any use requires advance permission from G Dan Mitchell.