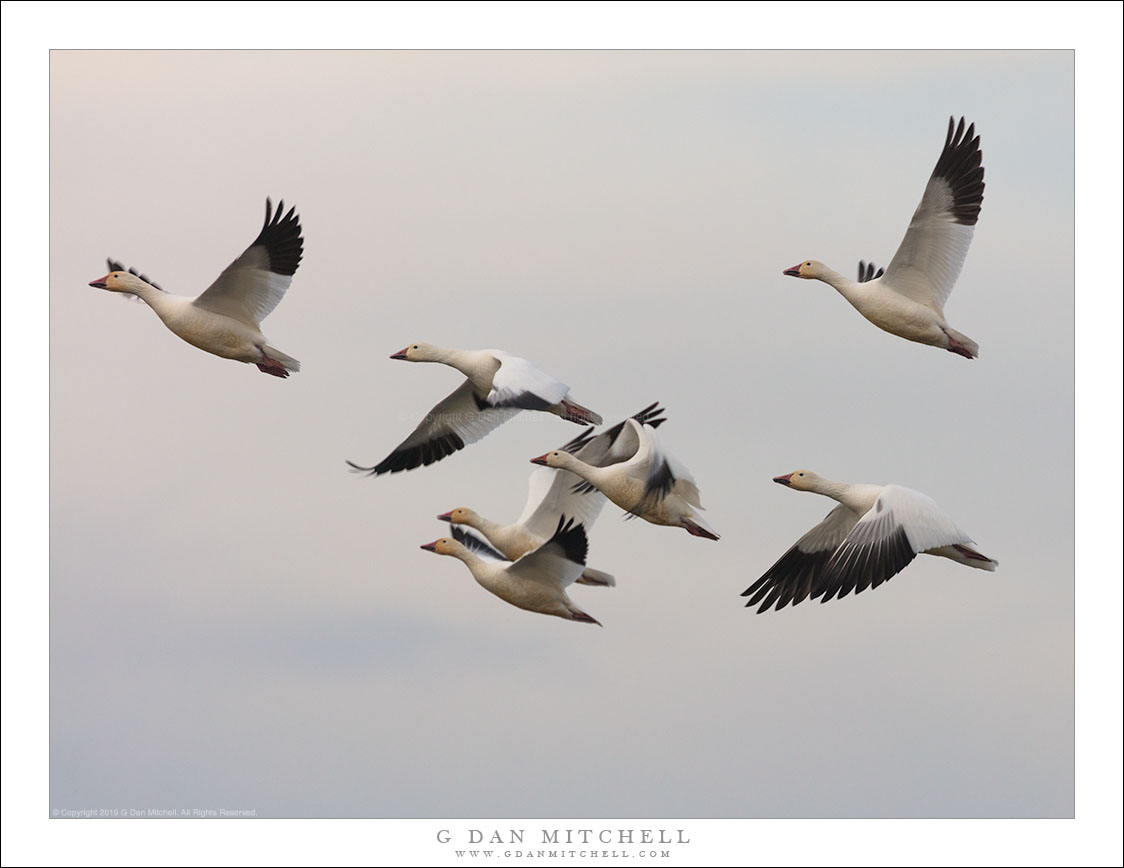 Snow Geese In Flight. © Copyright 2020 G Dan Mitchell – all rights reserved.
A small group of snow geese in flight against an overcast winter sky,
Photographing winter birds, especially the larger migratory birds and those that flock together, is a special pleasure during this season. All up and down "my" west" coast birds arrive from very distant locations, many from the arctic, and reveal connections between far flung parts of the planet. I've photographed them from Southern California all the way up to Washington's Skagit Valley.
In one way photographing a set of birds like this is a simple thing: just be there with a camera and be ready to photograph when they appear nearby. But the truth is more complicated. Groups of birds in flight are complicated things. Often they are headed the wrong direction, their positions obstruct one another's heads, foreground stuff gets in the way, the light of the sky overwhelms the scene, and they move fast! This photograph manages to avoid many of those pitfalls — each bird's head is visible, their arrangement seems interesting and appealing, and the muted light lets us see details.
---
G Dan Mitchell is a California photographer and visual opportunist. His book, "California's Fall Color: A Photographer's Guide to Autumn in the Sierra" is available from Heyday Books and Amazon.
Blog | About | Flickr | Facebook | Email
Links to Articles, Sales and Licensing, my Sierra Nevada Fall Color book, Contact Information.
---
All media © Copyright G Dan Mitchell and others as indicated. Any use requires advance permission from G Dan Mitchell.