Updated: November 23, 2016
This page lists current special pricing, new releases, and other information about photographic gear from vendors with whom this blog has an affiliate relationship. Your price will be the same through these links, but your purchase helps support the blog, so please use these links when you make your purchase.  Thanks! (See vendor web sites for full details and to verify information shared here.)
Please see my Sales page for information about purchasing prints or licensing photographs.
Permanent Links to B&H:
Current Rebates In-Stock Rebate Items In-Stock Rebate Items with Free Shipping
Permanent Link to Adorama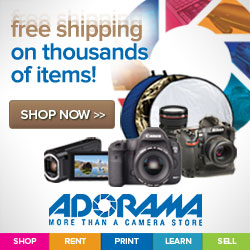 Wednesday, November 23, 2016
There are always a lot of holiday specials at this time of year, beginning with the so-called Black Friday sales and continuing up to and beyond Christmas. I'll share some of them here, along with other specials that may not be seasonal.
FUJIFILM PROMOTION 
I'm a big fan of the Fujifilm x-trans cameras and the Fujifilm lenses. (I use the XPro2 and several of the lenses for my street and travel photography. Fujifilm has one of their periodic promotions going on up until close to Christmas, and it reduces prices on cameras and lenses by as much as $400. Here is a list from site-affiliate Adorama.
Cameras
Some of the best bargains here are on older 16MP cameras such as the XT10, XT1, and X100T.
Lenses
The Fujifilm lenses are excellent, and they cover most photographers' needs. The primes are excellent — I rely on the 14mm f/2.8, 23mm f/1.4, 35mm f/1.4, and 60mm f/2.4 macro. I've used the 18-55mm kit lens and the 55-200mm tele-zoom, which is a very nice lens in a compact, light and affordable package.  Recently I have also been using the 50-140mm f/2.8, which is the equivalent of the high end 70-200mm f/2.8 lenses from major DSLR manufacturers. I'm likely to acquire the 16-55mm f/2.8 before long.
Friday, June 30, 2016
A bunch of special rebates and other promotion are ending this SATURDAY. Here is a quick list with links to site affiliate B&H. (Note that B&H is not always open for ordering on Saturday, so don't wait too long!)
Monday, June 27, 2016
A special Fujifilm promotion continues for a few more days, with significant price reductions on lenses and cameras and bundles.
Friday, May 27, 2016
I have recently been posting photographs made with my new Fujifilm X-Pro2 Mirrorless Digital Camera. Before long I intend to share a review based on my experiences — but that is a bit too big of a project for today. For now I'll just say that it is meeting and exceeding my expectations and I can recommend it to folks who can make use of its special set of features. A few pages on this website mention it:
Fujifilm X-E2 Deals
But the main point of this brief update is to let you know about an excellent deal available on the X-E2, a 16MP interchangeable lens mirrorless camera much like (but better than) the X-E1 that I relied on for three years. Right now you can pick up this camera for as low as $499. Considering that you can apply a free Fujifilm firmware update and give it virtually the same capabilities as the newer X-T10 and X-E2s, this deal is even more remarkable. If you have been thinking about one of these little mirrorless cameras and would like to give it a try, check out these deals.
Several bundles from Adorama include include Fujifilm NP-W126 Battery, Fujifilm Half Case for XE1 Camera, 24/7 Traffic Collection – Small Holster
Fujifilm X-E2 Mirrorless Digital Camera with XF 18-55mm F2.8-4 R LM OIS Lens
Fujifilm X-E2 Mirrorless Digital Camera Body
Adorama: $499 (Regular $699) —  Silver
Free Shipping. While supplies last
There's More…
Right now Fujifilm has a promotion on a huge selection of mirrorless cameras and lenses with prices on some as much as $400 off: B&H | Adorama

Here is a list of some of these products at Adorama. (The same equipment is also available at B&H.)
CAMERAS
LENSES
Wednesday, March 16, 2016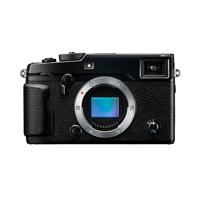 Monday, February 22, 2016.
Early Fujifilm announced the availability of the new X-Pro2 Mirrorless Digital Camera, an upgraded X-sensor camera that updates and improves the venerable X-Pro1 in a number of important ways. Some features include:
24MP X-trans sensor
Updated AF system
Hybrid electronic and optical viewfinder system
Improved video capabilities
Updated interface
Increased speed
More…
The camera is not quite available as of this February 22 posting, but it is likely to arrive on dealer shelves during the first week of March or so — and B&H is now  taking pre-orders for the X-Pro2 Mirrorless Digital Camera (Body Only).
And, yes, I'm getting one. I've been a big fan of the X-trans system for some time now and I have relied on it for my street and travel photography.
And if you are considering a Fujifilm camera, you'll likely be interested in a bunch of great deals from Fujifilm on lenses for the X-series cameras, going on right now
Thursday, January 14, 2016
Today's announcement of the Fujifilm X-Pro2 brings a very special opportunity for folks who could use the X-Pro1.  The X-Pro1 provides
The same compact rangefinder design
An excellent 16MP 1.5x cropped format sensor
A hybrid optical-electronic viewfinder
… and more
a very low price of $499 for the body-only!
While the X-Pro2 most certainly brings some improvements, the X-Pro1 is also a fine camera, and at this very low $499 price (it was originally $1299) it is a tremendous bargain right now. If you poke around a bit at the B&H website, you can find it with a lens for $699.
Wednesday December 30, 2015
Some end-of-year special promotional prices on Canon DSLR/lens bundles, Canon lenses and Speedlites, and Nikon DSLR/lens bundles are valid at B&H only through 4:00PM EST time today!
Canon DSLRs and DSLR/lens bundles — Savings of up to $650 on many products including 5DIII, 5Ds, 5DsR, 6D, 70D, 7DII, several Rebels
Canon lenses and Speedlites — Savings of up to $200 on over 30 lenses, including many excellent and popular models, along with four Speedlite/flash units
Nikon DSLR/lens bundles — "Instant Savings" of hundreds to over $1000 on camera bundles including D3300, D5300, D610, D7100, D7200, D750, D810, Df, D4s
Wednesday, December 16, 2015
Free next day shipping from site-sponsor B&H Photo – for a limited time.
Thursday, December 3, 2015
Lens and Electronic Flash Promotions
And…
Wednesday, November 27, 2015
Shop the B&H Photo Black Friday sale and help support this site. Thanks!
Sunday, November 15, 2015
Fujifilm X-Trans System "Instant Savings"
If you follow this website and my photography, you may already know that I'm a big fan of the Fujifilm X-Series cameras and lenses. I rely on the little X-E1 plus a small set of the excellent Fujifilm lenses for my street and travel photography. This 1.5x cropped sensor camera system performs beautifully.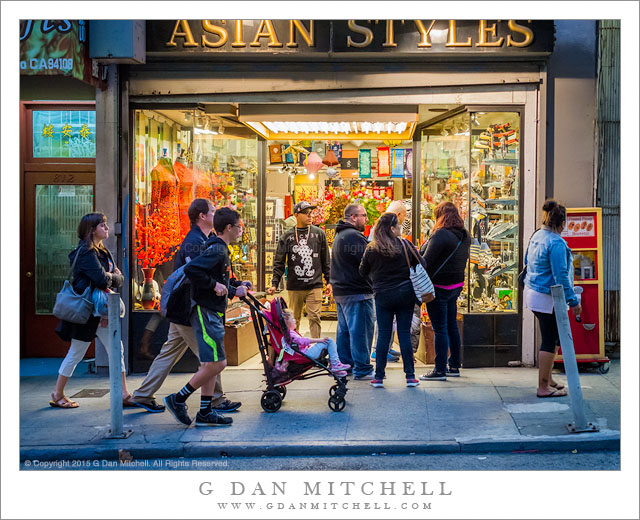 A Fujifilm "Instant Savings" promotion just started today (November 15, 2015), and it brings some excellent price reductions on all of the current X-Series cameras and a whole bunch of lenses. This is a great opportunity for anyone planning to acquire a Fujifilm system!
The list is too long for me to describe each piece of equipment. I'll mention a few, but feel free to leave a comment if you have questions about anything on the list.
Fujifilm X Series Cameras
Summary: The X-Pro1 feels like an old-school interchangeable lens rangefinder camera. The X-Pro1 is the current high-end in this series — and probably the body I would get for my own use if I were buying right now. The X100T is a rangefinder body with a fixed 35mm-equivalent lens. The XT-10 shares many features with the X-T1, including its sensor, but at a lower price. The X-E2 is a very compact rangefinder-style interchangeable lens body with an electronic viewfinder. (It is the updated version of my X-E1.) The X-30 is a very small camera with an integrated zoom lens and a smaller sensor. With the exception of the X-30, all of these cameras use the excellent 16MP, 1.5x cropped sensor Fujifilm x-trans sensor.
X-Pro1: Fujifilm's innovative interchangeable lens camera combining an optical rangefinder design with an electronic viewfinder.
X-T1: Fujifilm's flagship interchangeable lens mirrorless camera
X100T: Fujifilm's compact rangefinder fixed lens camera. Street photographer's love it.
X-T10: A less expensive but very capable camera modeled on the X-T1.
X-E2: A very compact interchangeable lens mirrorless camera. (I use the X-E1, the predecessor of this model.)
X-30: A very compact mirrorless camera with a smaller sensor and a zoom lens.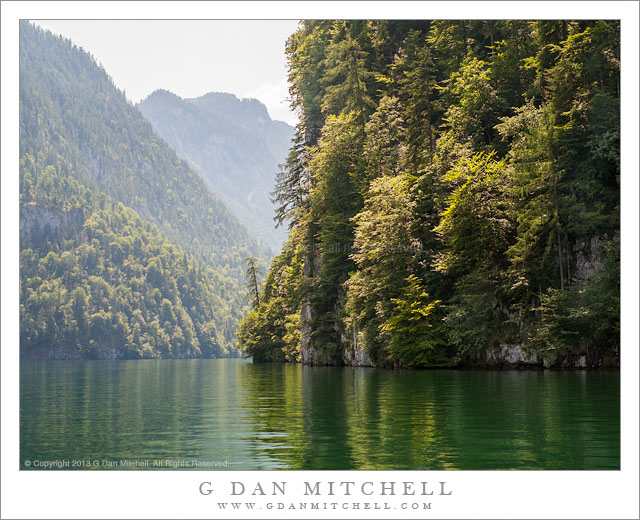 Fujifilm lenses for X Series interchangeable lens cameras
Based on my own experience with a number of the lenses and confirmed by many other reports, the Fujifilm lenses provide first-rate optical performance. The range from very small prime lenses up to large aperture zooms that are competitive with the best from the DSLR manufacturers. I have marked lenses that I own and use with asterisks — *.
Tuesday, September 29, 2015
Discount code for my California Fall Color book: PCAL
This year's fall color season in the Sierra is now underway. My new book, "California's Fall Color: A Photographer's Guide to Autumn in the Sierra" from Heyday Books focuses on where and how to find and photograph fall color in in the Sierra Nevada. In includes an overview/guide to where to find color, ideas and techniques for photograph fall color, and many of my photographs of Sierra Nevada autumn color.
Right now my publisher is offering discount code that will give you a 30% discount on the purchase price of the book. Click the link and use code "CFAL" to get the discount. (NOTE: I originally listed the wrong code here. My apologies! The error has now been corrected!)
If you like the book, please share this code with others!
Monday, June 15, 2015
As of this morning, the new Canon EOS 5Ds is in stock right now at various dealers, including site-sponsor B&H Photo.
The 5DS (including the 5DS R variant) is Canon's new 50.6MP full frame DSLR. The camera provides the highest resolution sensor of any current full frame cameras, along with several other improved features.
(The 5DS R model cancels the anti-aliasing filter that has long been a standard feature of digital cameras. The "R" model is back-ordered, so those who want that version and don't want to wait should consider putting in an order.)
(You may use the links in this paragraph to order/reserve either the 5DS or the 5DS R from site-sponsor B&H photo. I have reserved mine — I'm going with the "R" model.)
Articles on the 5Ds and 5Ds R on this website:
Monday, November 24, 2014
Tuesday, November 11, 2014
Canon has announced the long-rumored replacement to the venerable 100-400mm L lens. It is the EF 100-400mm f/4.5-5.6L IS II. (Click the link to pre-order from site-sponsor B&H Camera.)
The lens it replaces has been a very valuable "go to" lens for many photographers who wanted more reach, a reasonably small package, good optical quality, and the flexibility of a zoom. I've been an enthusiastic user of the older version for some time now.
Recently Canon has updated or augmented their lens line-up to improve the offerings in certain categories. For example, earlier this year they introduced their ultra wide angle zooms by adding a new EF 16-35mm f/4L IS lens. That lens has been a real success, not only adding image stabilization to lenses in this class for the first time, but also providing excellent resolution across the frame — more so than either of the lenses that many photographers used before it was introduced.
For some time, many have felt that there was a lot of potential for updating the 100-400. Although it is good performer in many ways, there has been room for improvement. More modern IS systems can provide up to 4 stops of stabilization, while the older lens only provides perhaps two. The older lens has good image quality, but it could be better in keeping with more recent lenses from Canon. In fact, rumors about the introduction of the updated 100-400mm zoom have been floating around for years.
We don't know what the optical performance of the new lens will be yet. As I write this I have seen no real reviews. (I have seen some "reviews" that are mostly lists of specifications and speculation.) When we do see them, it will not surprise me at all if this lens provides valuable improvements in the same way that the 16-35mm f/4 has. Here is some of what we do know from Canon specifications:
Rather than the "push-pull" design of the earlier lens, this one has a more familiar rotation ring to change the focal length.
As was the case with the older model, the front of the lens extends as you zoom. This means that the lens is more compact when packed.
Image stabilization has been updated to provide up to four stops of stabilization — especially important with longer focal length lenses.
Other features include 9 blade diaphragm, the familiar 77mm filter thread diameter, and more.
The list price of the lens is $2,199. That may seem like a lot of money, but if it provides the sort of image quality we all expect it is actually a rather good deal for a lens with these capabilities.
Update: I have now had a chance to look at the MTF charts for the new lens (available at the Canon web site) and they suggest that the new zoom should be a very good performer in terms of image quality. The chart suggests better image quality than the existing 100-400 (which is quite decent) and the 400mm f/5.6 prime.
I expect that this lens will be in short supply at first — for the usual reasons related to any new product introduction, but also because of a pent-up interest in the update. The lens has been announced but is not yet available — though you may preorder it if you want to be first to get one.
As for me, there is a very good chance that I will get a copy of this lens before too long. In fact, I'm leaning more and more towards placing a pre-order — something that I rarely do.
Thursday, August 21, 2014
B&H Photo reports that the new and highly regarded Nikon D810 DSLR (successor to the D800 and D800E) is now in stock at $3,296.95 and shipping.
G Dan Mitchell is a California photographer and visual opportunist whose subjects include the Pacific coast, redwood forests, central California oak/grasslands, the Sierra Nevada, California deserts, urban landscapes, night photography, and more.
Blog | About | Flickr | Twitter | Facebook | Google+ | 500px.com | LinkedIn | Email
Text, photographs, and other media are © Copyright G Dan Mitchell (or others when indicated) and are not in the public domain and may not be used on websites, blogs, or in other media without advance permission from G Dan Mitchell.