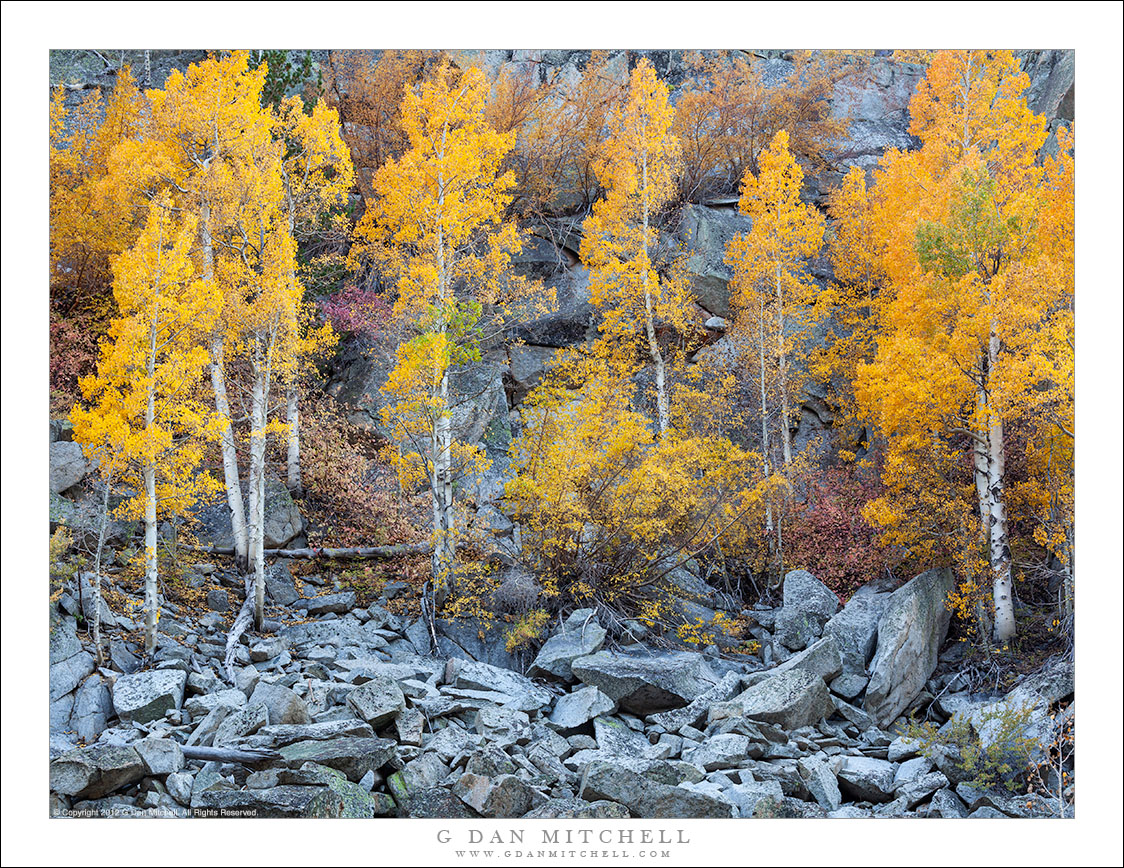 Autumn Aspens, Broken Boulders. © Copyright 2012 G Dan Mitchell – all rights reserved.
A group of autumn aspen trees grows in jumbled and rocky Eastern Sierra Nevada terrain.
Aspen trees frequently grow on what we might regard as less-than-optimal soil and terrain, at least in the Eastern Sierra Nevada. While some manage to find a home in canyon bottoms and other places with good soil, many trees live their lives in dry, rocky, and exposed places. Often the trees seem to adapt — perhaps remaining quite small or maybe maintaining more space between them. The trees in this photograph are growing on truly rocky terrain. The trees are rooted in little more than cracks in the granite, and around them are solid rock and a field of broken granite.
Dealing with color when photographing aspens in locations like this can be tricky, especially since I much prefer to photograph them when they are shaded. (Direct sunlight on these trees can be quite harsh.) The light in shadows can be extremely blue, mainly because the main light source is that giant blue light panel we call the say. On the scene, our human visual system adapts and we register the rocks as gray. But the camera is, to an extent, more objective, and the intense blue color of those "gray" rocks is revealed in a photograph. With that we are faced with a subjective, interpretative question: where should be set the colors along the continuum stretching from the objective blue to what we recall in our mind's eye? Here, as I often do, I shifted the color away from blue to produce colors that are more like what I recall — and even here those rocks seem quite blue to my eyes. Fortunately, there is no one right answer to this question, and I've seen effective interpretations that were strikingly blue along with others that used much warmer colors.
---
G Dan Mitchell is a California photographer and visual opportunist. His book, "California's Fall Color: A Photographer's Guide to Autumn in the Sierra" is available from Heyday Books and Amazon.
Blog | About | Flickr | Facebook | Email
Links to Articles, Sales and Licensing, my Sierra Nevada Fall Color book, Contact Information.
Scroll down to leave a comment or question.
---
All media © Copyright G Dan Mitchell and others as indicated. Any use requires advance permission from G Dan Mitchell.