G Dan Mitchell is a California photographer and visual opportunist whose subjects include the Pacific coast, the redwoods, central California oak/grasslands, the Sierra Nevada, California deserts, the American Southwest, wildlife, urban landscapes, night photography,  travel photography, and street photography.
He  exhibits, sells prints, licenses photographs, and writes on photographic subjects. His photography has been exhibited at The Ansel Adams Gallery in Yosemite Valley, the Center for Photographic Art in Carmel, the annual Yosemite Renaissance exhibition, the Harvey Milk Photo Center, San Francisco ArtSpan Open Studios (with the night photography group Studio Nocturne SF), The Stellar Gallery, and other locations including public and private facilities in Death Valley National Park, the Carmel area, San Francisco, Chicago, and in Europe and Australia. His photographs appear in books and magazines, and he presents talks on photographic subjects. He was a Yosemite Renaissance artist-in-residence in Yosemite National Park in 2018, and a show featuring work from the residency was presented at Gallery Five in the spring and summer of that year. Since 2011 he has photographed in the Sierra Nevada backcountry each summer with the "First Light" group.
Mitchell has had a prolific online presence since the late 1990s. He has shared daily photographs with commentary at his website (www.gdanmitchell.com) for nearly fifteen years. He is active on social media as "gdanmitchell," and he founded the  8,000-member "Sierra Nevada: Photographs From The Range Of Light" Facebook community.
Mitchell is the author of California's Fall Color: A Photographer's Guide to Autumn in the Sierra (Heyday Books, Berkeley), 2015.
G Dan Mitchell Photography
1165 Lincoln Ave. #8655
San Jose California 95155
408-504-3266
dan@gdanmitchell.com
(You may also use the contact form at the bottom of this page to send me a direct email message.)
---
Social Media
G Dan Mitchell  Photography Blog and Website – Daily photographs and frequent articles on photography
For nearly a decade I have posted a "photograph of the day," along with information and observations about the photos. The website also hosts articles on a range of photography subjects.
All photographs and text are © Copyright G Dan Mitchell – all rights reserved unless otherwise explicitly indicated. My photographs have not been placed in the public domain, and any use requires advance permission. Many images may be purchased as prints and/or may be licensed for other uses with permission. See the Purchasing Photographs page for more information.
Photography and Me
I began photographing when I was in elementary school. My father was a professor of instructional technology and a talented and dedicated amateur photographer. He had camera gear (including a big old Graflex) and a darkroom he would set up in the bathroom. He taught me to print black and white and he gave me a lot good advice that I probably didn't appreciate at the time.
By the time I was in high school I shot a lot of black and white, developing the film myself and printing at home or using the school darkroom. I look back at a large black and white image of oak trees from that era which appears on the inside of the cover of  my high school yearbook… and recognize that I was already "seeing" in some of the same ways that I do today. I acquired my first SLR around this time. By mymid-twenties I had acquired a couple of Pentax 35mm cameras (MX and ME) along with a small set of lenses that I used a great deal on Sierra Nevada backpacking trips.
As time went on I began to feel that the camera gear was interfering with my backcountry experience, and  eventually I stopped carrying the Pentax cameras and extra lenses. In fact, for a while I carried only a small Olympus Zoom camera and mostly just recorded my experience, as opposed to making photographs. I continued to spend a lot of time in the backcountry, but at that point in my life I felt unburdened when I left the camera gear at home. Ah, well…
Then came digital photography. I was doing digital quite early, initially using some cameras in the 1990s that seem remarkably crude by today's stands, such as the early Apple "Quicktake" camera. I could make lots of photographs and quickly see and edit them, learning quickly from the process, and I could share pictures on the web. All of this rekindled my interest in photography.
Ultimately I learned that digital cameras and digital post-processing (e.g.  – the "digital darkroom") provide the means for creating very, very fine photographic images and prints. I am absolutely certain that great photographic masters of the past would have embraced this equipment and these techniques wholeheartedly. I know that many of today's masters do.
Disclaimer
The information I post at this site is based on my personal experience and opinions, and I cannot guarantee that your experience will be the same or that information I post is always accurate, up to date, or the best available. Seek out a variety of expert opinions and information, especially from the manufacturers of products you use or may consider buying.
Note about product reviews and commercial links
Vendor Links
This site includes links to vendors and manufacturers, some of whom have affiliate relationships with this website.  (As of March 15, 2018 the website has affiliate relationships with B&H Photo*, Adorama, and ThinkTank Photo.) The website may earn a percentage of the sale price when you make a purchase via links on my blog. (Your price will be the same whether you purchase though my links or not.)
I'm grateful when you make purchases through these links since they help support the blog and you get the same prices on great gear. If you find the information here useful, consider making your purchases through these links. Thanks!
* Solicitation of business for B&H (and other vendors, if applicable) from California site members is prohibited, and these vendor links are intended for site visitors residing in other locations.
---
Errors
I make every effort to ensure accuracy on this website, including the affiliate links and listings and other information I post here. Errors will inevitably occur, and I cannot be responsible for them. I am always grateful to readers who let me know about them, and I will try to correct them as quickly as possible.
In some cases the source information may be erroneous. For example, when you purchase through a vendor link I am unable to control changes that may have occurred at the vendor website. Please carefully read and understand the information at those links to make sure that it does (or does not!) match what I write here — and let me know if you have a question or see an error.
In addition, I do not generally delete or update old article at this website, some of which go back a decade or more. Things may have changed since the original posting dates, so please carefully double-check information you read in these posts, including taking steps to verify its accuracy and currency by using a wide range of other appropriate resources and/or asking me for clarification.
Other Terms
Since this is my personal website, I retain the right to edit or delete any material posted here at any time, with or without notice concerning the changes or to other parties who may have posted it.
All terms and policies at this website are subject to change at any time.
As of this writing, I have never been compensated by a vendor for reviewing or writing about their product or for recommending their service.
This website displays advertisements from affiliate vendors and manufacturers. When you make purchases by clicking on these links I may receive a compensation based on a percentage of the purchase price or some other formula. This does not increase your price. Your purchases through these links help support the blog – and I'm grateful for that!
---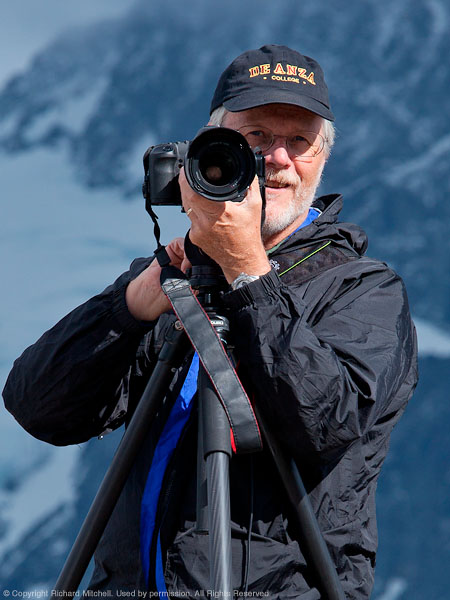 Contact Form – Please fill out this form to send me an email message.
G Dan Mitchell is a California photographer whose subjects include the Pacific coast, redwood forests, central California oak/grasslands, the Sierra Nevada, California deserts, urban landscapes, night photography, and more.

Blog | About | Flickr | Facebook |  Email
Text, photographs, and other media are © Copyright G Dan Mitchell (or others when indicated) and are not in the public domain and may not be used on websites, blogs, or in other media without advance permission from G Dan Mitchell.