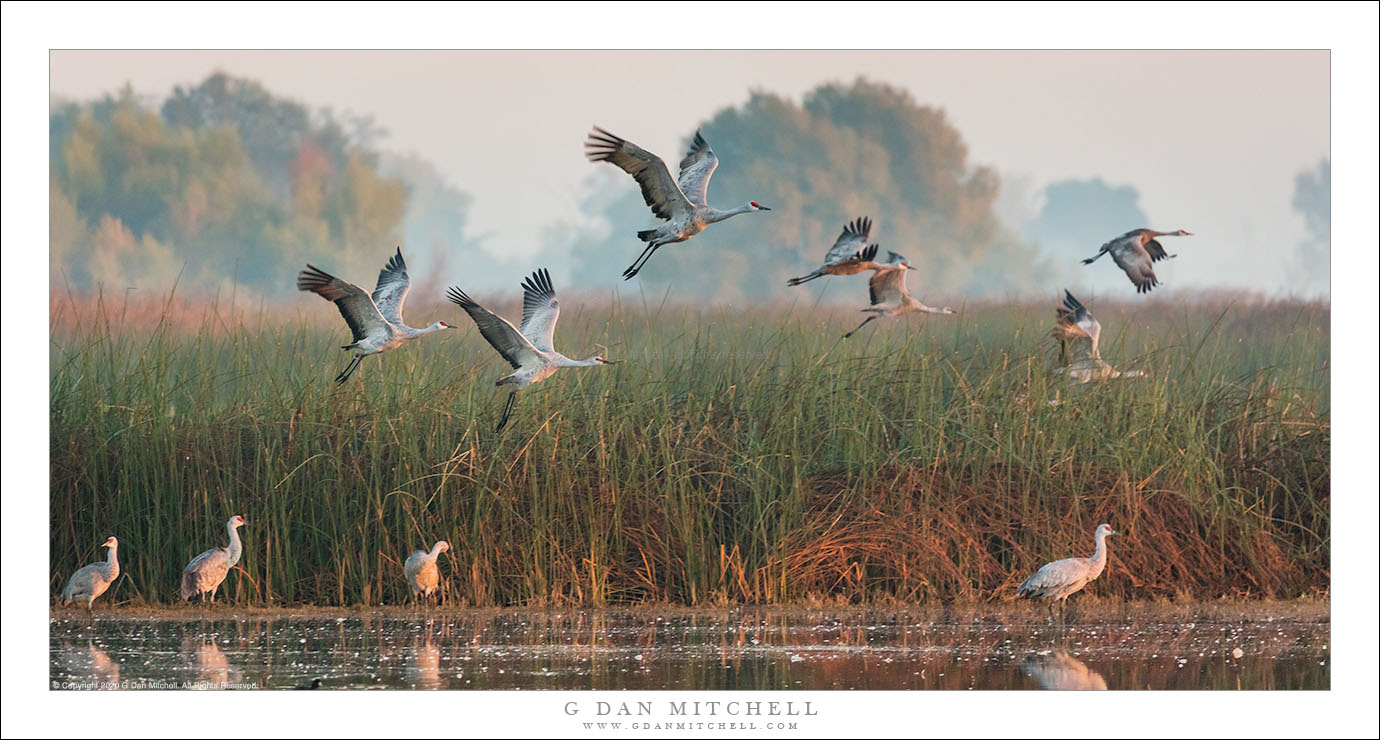 Crane Departure, Morning. © Copyright 2020 G Dan Mitchell – all rights reserved.
Sandhill cranes take to the air in morning light above Central Valley wetlands.
In my experience, bird photography often involves a whole lot of sitting around, thinking about where the birds might be, stopping and watching and hoping that they will engage in some interesting behavior. The actual picture making can take up a small percentage of the total time on task, with vast slow times in between. (And that's not even counting the long drives — usually in the dark — to get there and back.)
My photographs of sandhill cranes on this autumn morning might be illustrative. I drove two hours in darkness to get here a half hour before dawn. I followed a levee road out into agricultural and wetland country, not seeing all that many birds, at least not of the sort I was looking for. Eventually, in a place where I was not necessarily expecting to find them, I came upon a large flock of sandhill cranes in a pond. It was still before sunrise when I decided to stop and see what developed here. I made a few quick images in the low light, but then I mostly just sat there and… watched. Eventually some of the birds became more active and a bit later the first semi-directional sunrise light came weakly through the fog. And a few minutes after that happened small groups of the birds began to depart. Then they were gone and… not much else happened until I left a few hours later.
---
G Dan Mitchell is a California photographer and visual opportunist. His book, "California's Fall Color: A Photographer's Guide to Autumn in the Sierra" is available from Heyday Books, Amazon, and directly from G Dan Mitchell.
Blog | About | Flickr | Facebook | Email
Links to Articles, Sales and Licensing, my Sierra Nevada Fall Color book, Contact Information.
Scroll down to leave a comment or question.
---
All media © Copyright G Dan Mitchell and others as indicated. Any use requires advance permission from G Dan Mitchell.