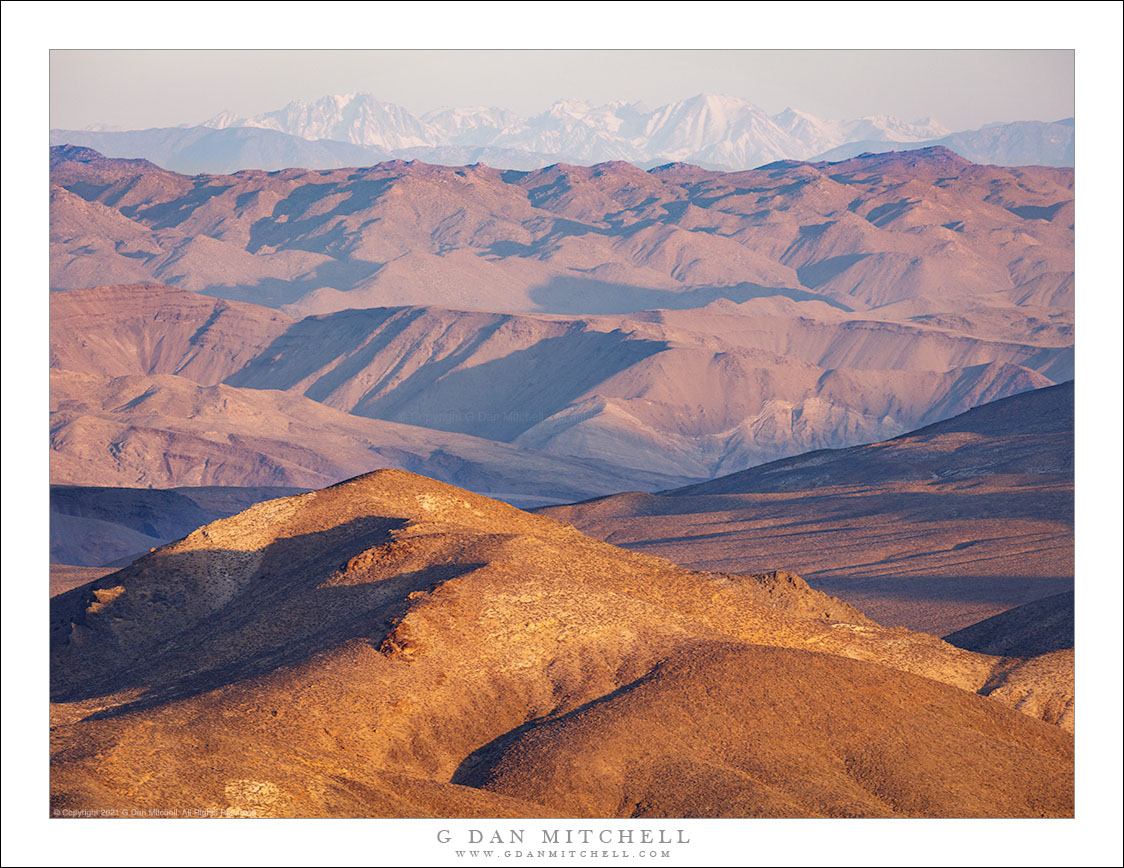 From The Panamints to the Sierra. © Copyright 2021 G Dan Mitchell – all rights reserved.
The distant Sierra Nevada peaks are visible from the crest of the Panamint Mountains, Death Valley National Park.
There is a misconception out there that "you can see the highest point in the 48 states from the lowest point in the 48 states" if you visit Death Valley. This is sometimes shortened: "You can see Mount Whitney from Death Valley." Sorry to say, but that isn't quite true. However the truth is pretty impressive nonetheless — from elevated locations in Death Valley National Park you can see both the lowest and highest spots.
I made this photograph early in the morning from one such location. Death Valley itself lay behind my camera position, many thousands of feet below this high ridge. And there in the distance are the peaks of the southern Sierra Nevada, along the eastern edge of Sequoia-Kings Canyon National Parks. Between these points is a remarkable stretch of very rugged and dry landscape with only a few easy access points to most of it.
---
G Dan Mitchell is a California photographer and visual opportunist. His book, "California's Fall Color: A Photographer's Guide to Autumn in the Sierra" is available from Heyday Books, Amazon, and directly from G Dan Mitchell.
Blog | About | Flickr | Facebook | Email
Links to Articles, Sales and Licensing, my Sierra Nevada Fall Color book, Contact Information.
Scroll down to leave a comment or question.
---
All media © Copyright G Dan Mitchell and others as indicated. Any use requires advance permission from G Dan Mitchell.